State of the translation industry reports
ProZ.com "state of the industry" reports take a look at some of the changes that are affecting translators, as told by translators. The reports include discussion of the trends, obstacles and opportunities to freelance work in the translation industry today, and how freelance translators are dealing with these trends.
These reports are free for all full ProZ.com members. Non-members have access to the report abstracts shown on this page.
Abstracts
---
The state of the linguist supply chain: translators and interpreters in 2020

In the second half of 2019, ProZ.com, Translators without Borders, and other organizations collaborated with Common Sense Advisory (CSA) on a survey directed at professional translators and interpreters. The information gathered in this survey, which was completed by over 7,000 professionals (most of them freelancers), was then used by CSA to build a report which covers a variety of areas, including demographics, behaviors, interaction with clients, income, technology, and trends and challenges being faced by today's freelance language professional.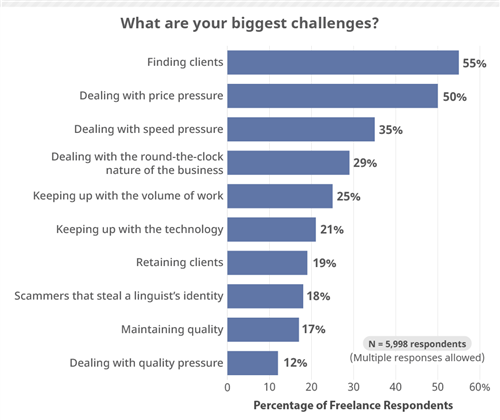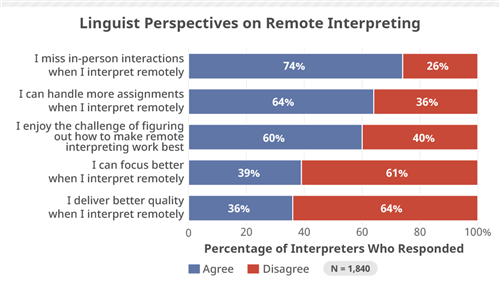 ---
2019 Human response to a changing industry: how freelance translators and interpreters are adapting to technological innovation
Introduction
In this report, we will take a look at some of the changes that have been introduced into the language services industry over the past years, and at how the humans in that industry, specifically translators and interpreters, are reacting and adapting to those changes.
A version of this report was first given as a talk at the 2019 GALA conference in Munich, Germany.
Outline
Intro
Meet GoTrans
Big picture changes
Industry changes

Automation
Intimacy
Scale

Human response

Group one: embracing the machine (MT and PEMT)
Diversifying in, diversifying out
Group two: diversifying out
Group three: diversifying in (direct clients)
Personalizable de-personalization
The efficiency - inefficiency loop

Outlook
Tomorrow's freelance translator and interpreter
Special thanks
---
State of the industry: freelance translators in 2012
Introduction
Commenting on the impact of the Internet and other factors leading to accelerated globalization, Thomas Friedman, in The World Is Flat: A Brief History of the Twenty-First Century, wrote, "The world has been flattened ... global collaboration and competition – between individuals and individuals, companies and individuals, companies and companies, and companies and customers -- have been made cheaper, easier, more friction-free, and more productive for more people from more corners of the earth than at any time in the history of the world."
These changes, of course, have also affected translation. As companies have gained increased access to new potential customers around the world, the need for translation has increased. The translation industry is a healthy, growing one.
Other features of this flattened translation world are, for instance, the increased turnaround times translation projects demand. It is easier now too for clients to find the right professional for the job, in less time. With advances in content management, the use of translation memories, improvements in machine translation, more effective online and offline resources and many other factors, human translators are now more efficient. They are more specialized. They are, through this heightened productivity and specialization, able to provide increasingly higher quality.
Outline
General data
Specialization as a given
Project turnaround and translator efficiency
"New" technologies
Quality
Demand and growth
Translator income, investments and expectations
Diversification
Differentiation and marketing
Strategies for success
---
State of the industry: freelance translators in 2011
Introduction
Last year, ProZ.com's first "State of the industry" report for freelance translators was compiled, and was first presented at the second annual Translation Day virtual conference. In it, several main trends affecting translators were identified, along with ways in which translators were dealing with, or taking advantage of, those trends.
A year later, has much really changed?
Yes and no. Many of the trends discussed in the 2010 report continue, though some have made greater leaps than others. Advances and setbacks both within and outside of the translation industry are impacting the way in which freelance translators work. Technological advances, for example, are made at a pace with which it is at times difficult to keep up. It is clear, however, that many translators are taking advantage of these changes and others to not only survive but thrive within the industry.
Outline
Not surprisingly, then, many of the trends covered in last year's report continue, some perhaps more noticeably than others. Some of these trends show a high level of interplay; that is, it is difficult to talk about one without addressing the other. For example, specialization as a trend plays closely into productivity, quality, and translation price. For the purposes of this report, though, the main trends we will be looking at can be grouped like this:
Speed
Quality
Collaboration and diversification
Client contact
Income
Demand
Freelance translator reactions to these trends are included throughout the report, but we will finish with a summary of ways in which a translator can best get ahead and stay there in the current industry.
---
State of the industry: freelance translators in 2010
Introduction
It has been said previously that translation was a "cottage industry", in the sense that there were many individuals working in translation in a separate fashion, isolated, each producing his or her own product, with not much in the way of overall standardization. A translator's reach with their service was also more limited.
If this was the case before, it would appear that translation is no longer a cottage industry. Over the past few years there have been some important shifts in the industry, and advances both of the technological and social type that appear to be bringing fragments closer together-- translators and translators, translators and clients. Some members have used the term "industrial revolution" to refer to these changes. Now, I don't think that term has been used to say what it means in the strictest sense, of course, but rather to relay the impact these changes are having on the industry.
Translation is happening faster-- both the actual translation and the turnaround times for projects. Demand is up, and the demand for quality is increasing. Translators are adding more services to their offer of translation and cornering their niche on the market, while beginning to work more closely with their clients.
Some of the trends outlined in this report represent important challenges to freelance translator work. Others represent an opportunity for each translator to better position themselves to thrive in the industry.
Outline
The main trends this report covers can be broken into six different areas. Those are:
Efficiency, or Productivity
Collaboration
Specialization, Quality, and Rates
Direct contact with clients
Diversification
Demand
After discussing these areas, we will also take a look at a 4-part strategy for freelancers to survive and thrive in the industry.
---
Access to these reports is free to all ProZ.com paying members.
Log in >>
Register at ProZ.com (creating a profile is free and takes only minutes) >>